The Minnesota Telephone Assistance Plan (TAP) program is a state-funded monthly discount on local telephone service for qualified residents. Lifeline is a federally funded discount on local telephone or broadband service for qualified residents. Qualifying households located on Tribal lands may receive an additional discount on local telephone activation charges through the Link-up program. For TAP availability for those behind in bill payments, click on the LEARN MORE link.
MN PUC Telephone Discount Page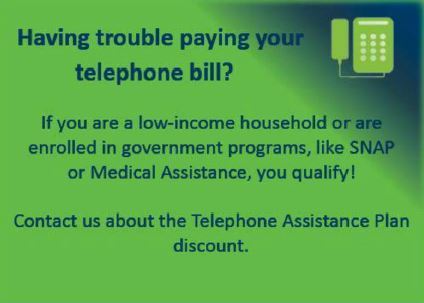 MINNESOTA TELEPHONE EQUIPMENT DISTRIBUTION PROGRAM
The Minnesota Telephone Equipment Distribution (TED) Program provides free specialized telecommunications equipment to income-eligible Minnesotans who have trouble using the telephone due to a hearing, speech or physical disability.
MINNESOTA RELAY – Communication Help for Hearing & Speech Impaired
Minnesota Relay is a free service that allows persons with hearing or speech disabilities to place and receive telephone calls by using a specially trained communications assistant (CA) to facilitate the telephone conversation. Calls can be made to anywhere in the world (long distance charges apply), 24 hours a day, 365 days a year. All calls are completely confidential. Windomnet customers are notified yearly of the availability of MN Relay service.
SICK OF TELEMARKETING CALLS AT HOME?
Register your phone number for free on the National Do-Not-Call Registry. The registry applies to all telemarketers (with the exception of certain non-profit and political organizations). Your number will remain on the registry indefinitely, until removed by you or the number becomes inactive.
YOUR ACCESSIBILITY IS OUR RESPONSIBILITY
As your telecommunications provider, we must ensure our services and products are accessible to people with disabilities, if such access is readily achievable. The FCC requires that our services and devices are compatible with peripheral devices and specialized customer equipment that is commonly used.
Please contact us at 507-831-6129 for further information or to discuss the options we may have for your accessibility needs.